Best known as the city of Dalai Lama, Dharamshala is located in the beautiful state of Himachal Pradesh. Serving as the district headquarters, Dharamshala is 18 km from Kangra. The city is separated into upper and lower divisions with different altitudes. While the lower division is Dharamshala, McLeodganj is the upper division. Here are some of the best places to visit in Dharamshala—
McLeodganj
Popularly known as 'Little Lhasa' or 'Dhasa', the city of McLeodganj has got this name due to the large populations of Tibetans. The major highlights of this place include the beautiful Tibetan sites and the renowned Dharamshala International Film Festival (DIFF). Most of the people prefer to visit McLeodganj in winters due to the breathtaking view of the lofty snow-capped mountains. McLeodganj is one of the prime attractions of Himachal tour packages.
Dharamshala Cricket Stadium
With a beautiful backdrop of Dhauladhar Mountains, Dharamshala Cricket Stadium makes up for a spectacular view and is a cricket lover's dream destination. The architecture has Tibetan influence, which adds an ingenious charm to the entire stadium.
Triund Hills
Best known as the crown jewel of Dharamshala, Triund Hills is situated in the midst of Dhauladhar Mountains giving mesmerizing views to the tourists. It is also one of the most sought-after trekking spots in India. Triund is 9km-trek from McLeodganj and one can also hire a pony that can take you to the top. With a pristine environment, it is an ideal spot to rejuvenate your senses.
Bhagsunath Temple and Bhagsu Waterfall
Located in the Bhagsu village, the temple is at a distance of 1 km from McLeodganj. The beautiful pools around the temple are believed to be sacred and contain miraculous powers of healing. Built by King Bhagsu, the temple is dedicated to Lord Shiva.Located at a distance of 20 km from Bhagsunath Temple; Bhagsu waterfall is one of the most picturesque locations in Dharamshala. The crystal clear water coming from the Dhauladhar Range is a treat to your eyes.
Gyuto Monastery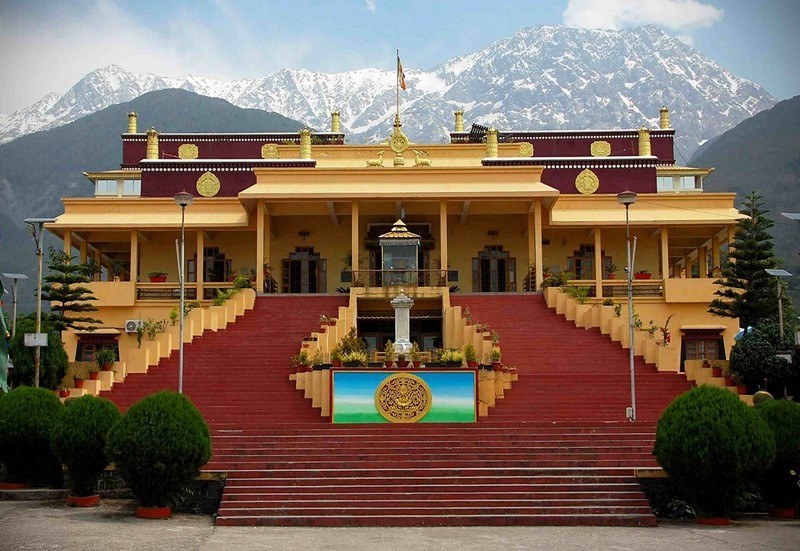 Founded in the year 1474 by the prime disciple of the 1st Dalai Lama, Gyuto Monastery is one of the most famous tourist places in Dharamshala. The monastery is best known for its tantric ritual arts, tantric meditation, and Buddhist philosophy. Located in the town of Dharamshala, the monastery boasts majestic statues of Buddha with a backdrop of snow-clad mountains.
From snow-capped hills, stunning waterfalls, and lush green surroundings, the serenely spiritual Dharamshala is one of the most famous attractions of the Himachal tour packages.